A Touch of Paradise
Its no secret that Spa therapies are an enhancement to life. We emphasize inner healing and the balance of mind, body and soul using a fusion of Eastern and Western philosophies and treatments set in contemporary oriental surroundings. Our treatments are designed to help you relax and rejuvenate your mind, body and soul, but most importantly you will return home with more energy, greater focus and an enhanced sense of balance. Feel the benefits as you experience a touch of paradise here at Duny Thai Spa.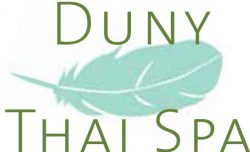 Traditional Thai Massage
(balancing body energy)
5 min foot spa 45 min / 85 min muscle stretching
This non-oil massage therapy was originally performed to facilitate a deeper meditation practice with the philosophy of peace. The massage focuses on muscle stretching and pressing to stimulate the natural flow of ten energy lines, which conduct and carry the energy throughout the body. This treatment will release blocked energy and help to restore your natural balance, health and harmony.
Royal Thai Aromatic Massage
(aches and tension relief)
5 min foot spa  45 min / 85 min medium to firm pressure massage with warm aromatic oil
Most people will suffer stress through pressure of everyday living. Stress is often responsible for causing tension in our muscles. Combining vigorous and soothing massage movement, this massage melts away muscular aches and tension as well as relaxes the whole body and mind.
Stone Massage
(deep relaxation)
5 min foot spa 45 / 85 min warm oil hot stone massage
This holistic ritual is a massage that helps encourage balance, comfort and well-being. It is carried out using the warm stones. This massage can discover the healing power of stones, known for their energizing properties. The heat provided by the stones will penetrate deep into the body, giving a calming and relaxing experience.
Classical Swedish Massage
(muscle relaxation)
5 min foot spa 45 min / 85 mins medium to firm pressure massage
Uses the world-renowned classic massage techniques which release physical stress and fatigue. It combines vigorous and soothing massage movements adapted to the individuals specific areas of tension. This massage is highly effective for muscle relaxation.
Back, Neck & Head Massage
(back pain and headache relief)
5 min foot spa 45 min firming massage
Tight muscles reduce circulation, letting waste products accumulate, which can leave you feeling fatigued and sore. Plus waste products can irritate nerves, causing pain to spread. This massage can release contracted muscles, increases circulation and relaxes the nervous system. Waste products are flushed away and replaced with oxygen and nutrients.
Foot Reflexology
(stimulates the nervous system)
Sometimes tight muscles press on nerves, causing tingling, numbness, or more pain. This massage can help by stretching tight muscles and by applying medium pressure to specific points on the feet to stimulate the nervous system. This massage helps to relax muscle tension and boost the immune system.
Pre Tanning Treatment
(prepares skin for the tanning process)
5 min foot spa 40 min pre tanning treatment
The ideal preparation for your skin to get the most out of the sun with a well-protected skin. Coconut exfoliating body scrub will remove dulling debris while the traditional massage will help penetrate the pure virgin coconut oil into your prone to dry skin when exposed to the sun. Coconut oil is a natural antioxidant and has been used for centuries by Tropical natives to prevent sagging ging and wrinkled skin. This treatment increases the speed of the tanning process and produces a deep, smooth glowing lasting tan.
After Sun Treatment
(soothing and calming)
Rejuvenate your skin again after sun bathing with soothing and natural Aloe Vera After Sun Treatment. It has a healing effect making it an excellent choice after exposure to the sun. Give your body a wonderfully healthy glow with this special treatment that will balance your skin color and moisturise your entire body. A uniquely luxurious skin pampering, mind and body therapy in one relaxing program with a dip into a romance bath and finished with a soothing aromatic massage.
-Aloe Vera After Sun Treatment -An aromatic oil massage -Aloe Vera After Sun Treatment -Romance Bath -An aromatic oil massage
Moisturising Facial
(skin moisturizing)
Facial Cleansing -Tone -Facial Scrub -Facial Massage -Facial Mask
A facial treatment that will encourage the skin to reveal its luminosity by reducing fatigue signs on the face. Its active ingredients work to smooth and moisture the skin, leaving it looking and feeling younger as it helps the skin to battle against stress.
Sensitive Facial
(skin smoothing)
Facial Cleansing -Tone -Facial Scrub -Facial Massage -Facial Mask
This treatment is designed to deep cleanse and detoxify skin. A treatment that is extra gentle especially for sensitive skin, suitable for skin with inflammation, fragile capillaries, sun burn or other problems caused by sensitivity. This treatment will soothe your skin and give you a fresh radiant look.
Oxygenating Facial
(skin detoxifying)
Facial Cleansing -Tone -Facial Scrub -Facial Massage -Facial Mask
This treatment works on the lymphatic system to relieve congestion within the tissues. Increase the muscle tone, tighten the pores, brighten the eyes and reduce stress. This brings out the innate beauty and radiance of an individual.
Body Polish
Daily environment changes, busy activity and stressful lifestyle will affect your whole look. The skin will look tired and dull, lacking healthy radiance. This body smoothing treatment will put the moisture level of your skin back to its normal state. A fantastic blend of aromatic essential oils will transform dull and tired skin into a silky, smooth and naturally glowing complexion.
Body Wrap
Perfect for sun worshippers, this cooling and soothing wrap, that uses Aloe Vera as the main ingredient, is the ideal choice to pamper skin that has had too much exposure to the sun. This treatment will leave your skin feeling wonderfully soft and refreshed.
Nail Care
Manicure & Hand massage, Pedicure & Foot massage, Color Change
Wax Treatment
Eye Brows, Upper Lip
Under Arms, Half Arms, Full Arms, Half Legs, Full Leg
Bikini Lines, Brazilian
Spa Package
At Duny Thai Spa our massage and treatment combine an emphasis upto your body and mind. The package will make you absolutely relaxed, rejoiced and reinvigorated from head to toe.
A Touch of Thai
Relaxing and Renewing
This experience starts with a special blend of Thai herbs used to deeply cleanse the skin to help the body to eliminate toxins and impurities. The massage with traditional Thai techniques is followed by a Thai herbal compress. A herbal scent soothes you into total relaxation
-Romance Bath -Traditional Thai Massage -Thai Herbal Compress -Thai Traditional Herbal Scrub -Romance Bath -Traditional Thai Massage -Thai Herbal Compress
You & Me Package ( for a couple )
Well-being and Energizing
The perfect package for the couple that does everything together. Enjoy relaxation for two with a holistic approach, utilizing natural active ingredients from aromatic oils. Start the experience with the Romance Bath. By combining the effects of aromatic oil and a thorough relaxing body massage, you can feel tension melt away, as mind and body are brought back to the point of equilibrium.
-Romance Bath -Royal Thai Aromatic Massage -Refreshment
Blend to Bliss Package
Oriental Rhythm of Respiration
The luxury of time where you can unwind. You will begin your time in pampering heaven. An unforgettable spa experience, rhythm of respiration is performed by experienced therapists working in rhythmic harmony with you. The rhythm of this treatment, synchronized to your respiration, is performed using special products blended with oriental essential oils. A rewarding experience which let you drift into blissful serenity.
-A Choice of Body Polish or Romance Bath -Royal Thai Aromatic Massage -Moisturizing Facial -Refreshment
DUNY THAI SPA
DUNY THAI SPA
DUNY THAI SPA